Benefits of Taking Proper Wild
Clean & Simple Ingredients,
Backed by Science
Designed to Maximize Your Productivity
2x More Caffeine Than a Cup of Coffee
Organic Caffeine from Green Tea provides clean, long-lasting energy
15x More L-Theanine Than a Cup of
Green Tea
L-Theanine for focus & productivity, without the jitters or crash
Natural Juices & Nothing Artificial
For a clean, smooth & natural taste without the junk
Other Ingredients: Purified Water, Pineapple Juice Concentrate, Organic Ginger Juice, Natural Flavors, Organic White Grape Juice Concentrate, Organic Lemon Juice Concentrate, Monk Fruit Juice Concentrate, Pink Himalayan Sea Salt
Other Ingredients: Purified Water, Pineapple Juice Concentrate, Natural Flavors, Organic Blackberry Juice Concentrate, Organic Lemon Juice Concentrate, Monk Fruit Juice Concentrate, Pink Himalayan Sea Salt
Other Ingredients: Purified Water, Pineapple Juice Concentrate, Natural Flavors, Organic Mango Juice Concentrate, Organic Lemon Juice Concentrate, Organic Peach Juice Concentrate, Monk Fruit Juice Concentrate, Pink Himalayan Sea Salt
Key Nutrition Facts
100% Plant-Based Ingredients
Only 35 Calories
No Added Sugars
No Preservatives
No Artificial Sweeteners
Why Pair L-Theanine with Caffeine?
Proper Wild's shots all contain 120 mg of L-Theanine, a naturally occurring amino acid also found in Green Tea.
When combining the proper ratio of L-Theanine with our Organic Caffeine, our energy shots give you an increase in focus and energy, without the jitters or crash.
Many scientific studies have shown that when Caffeine and L-Theanine are properly balanced in the correct amounts, a person will increase their brain functionality, alertness, energy level and boost their mood.
What Are People Saying?
Cari G.
Pacifica, CA
Total game changer!
The energy really lasts and there is no jolt, no crash, just an awake, an alive, alert feeling that lasts much longer than my typical coffee ritual. I'm an insanely early riser, so this is my first thing I go to. I am also one who is really sensitive to weird ingredients and allergic to so many things that I was nervous trying. Absolutely no adverse side effects. Will not be without!
Ty H.
Houston, TX
The no B.S. energy shot!
Proper Wild is the real deal! The bold statement of ALL DAY ENERGY is unheard of. I was very skeptical, but I have to say, this is the REAL DEAL! Most energy drinks that I have tried in the past have bad side effects of jitteriness, lack of focus, and crashing. I play tennis and have taken this on match day and this helps me to be energized and focused. I will order again!
When to Use Proper Wild
Long Drive
Keep you alert & safe
Early Morning
Kick start your morning
Work or School
Boost your focus & productivity
Afternoon Crash
Sustained all day energy
Pre-Workout
Only 2.5 oz & won't hurt your stomach
Late Night
Keeps you awake & alert all night
Reviews
Customer Reviews
10/12/2021
Alex

United States
First Try
I only bought 1 pack of these bottle because I was not confident on them... I tried it and wow! It was just incredible how awake, concentrated and active I felt!! Definitely will buy more of these!!
10/02/2021
GEORGE V.

United States
Who Knew
I tried " Proper Wild" because I was looking for a extra boost, in addition to my morning Tea or Coffee with Great Results, When she ask me can I try one? Sure what flavor hun, Now it's a part of our daily decisions, Some afternoons it helps with that Boost you need to finish your day Strong!❤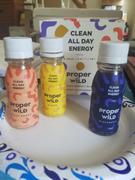 09/17/2021
Angelia H.

United States
Great product
I have tried many different products for energy but this product is one that delivers
09/10/2021
Chris

United States
healthy energy shots? YOU BETCHA
ive done extensive research and these are the healthiest energy shots on the market...not to mention, they taste good! big big fan!
Serious Solution
Recovery, energy, assistance! Great day to day for an extra boost or after a workout. Also, great before a long strenuous activity or recovery from being active in the elements. Feel confident in thr natural products and great taste.