Marc C.
"I was able to save money because one Proper Wild replaced an energy drink and a Venti Starbucks Coffee."
2x More Caffeine Than a Cup of Coffee
Organic Caffeine from Green Tea provides clean, long-lasting energy
23x More L-Theanine Than a Cup of Green Tea
L-Theanine fuels the brain to keep you laser focused and productive
Simple, Natural
Juices & Flavors
No preservatives or artificial sweeteners for a clean and natural taste
Instructions
We recommend taking one Proper Wild shot when needed to boost energy, concentration and productivity. One shot contains the Caffeine equivalent of two cups of coffee (180mg). We don't recommend taking more than two shots in one day. Every Proper Wild shot has a room temperature shelf-life of 12 months. Shake well and refrigerate after opening.
How does Proper Wild Taste?
Really Good! Proper Wild shots taste smooth and natural. We refuse to use preservatives or syrupy and artificial sweeteners found in other energy shots and drinks. Drink Proper Wild straight, which we like best when chilled, or mix it in with a smoothie or shake.
What Our Customers Are Saying
Customer Reviews
04/06/2020
Taylor G.
United States
A clean, tasty energy shot that actually works!
These are the best energy shots! Made of clean ingredients and they actually work. I barely drink coffee anymore and opt for these. Also, all the flavors are SO GOOD!
04/06/2020
Angela M.
United States
THE BEST
Caffeine and I have never been friends... until I found proper wild. Seriously these little energy shots are like a magic potion in a bottle! I love them! All the benefits of energy, without any of the downsides.
04/03/2020
Devin C.
United States
Best Energy shots!
I've tried quite a few energy shots in my time and these are the absolute best. I am so thankful to proper wild!
03/31/2020
Josue R.
United States
The Energy Drink Of The Future
Being a bartender, I include Proper Wild in my cocktail recipes and even mocktails. What I like about it is the clean and simple ingredients, with no preservatives and no artificial sweeteners.
03/30/2020
Talea J.
United States
My absolute favorite
This is definitely my favorite energy shot. I don't like carbonation so I enjoy that this is not carbonated. The flavor is great but not too sweet. Especially perfect for those tiring days or when I have a hangover and need to be at work the next day haha This helps so much and gives me so much energy like I wasn't out the night before. Plus ginger flavor is amazing.
03/30/2020
Whit H.
United States
Amazing Energy Shot!
So much better than everything else out there. All natural and doesn't make you feel jittery, just plenty energized and sharp! I love the effect I get after drinking one of these. Great choice of flavors too!
03/30/2020
Nolan O.
United States
Great Energy
Proper wild keeps me thriving throughout the day! No jitters and feeling very strong!
03/24/2020
Yuliya T.
United States
Love the clean ingredients
I love that these are made of clean, plant-based ingredients. I mostly take a shot before going out or early morning before work or school!
03/23/2020
Judy H.
United States
Great flavor and energy without the crash
I take one blackberry shot right before my workout every morning for the past week. It gives me sustained energy throughout my 1hr workout without jitters or major spikes. after, my alertness and energy sustains throughout the day. If flavor is a bit concentrated, mix it with some sparkling water or into a smoothie!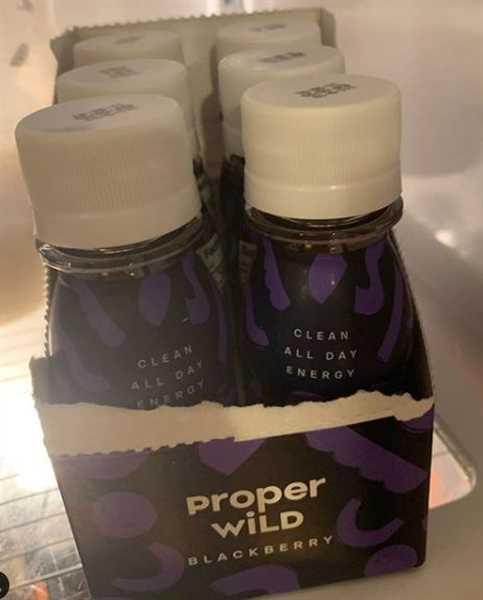 03/23/2020
Nicole C.
United States
Ginger
Whoa Ginger! I like that its a simple ingredient product, with a nice punch of caffeine. I replaced my morning coffee with it and had no problem going all day like I normally would! Now, for the flavors, I really want to try the other two. I honestly think I'll like them even more. I liked the ginger, but if you are not a ginger person just know that its definitely a punch of ginger, not just a hairy taste of it. Definitely a recommended product and saves money too!
See more
@properwild