Marc C.
"I was able to save money because one Proper Wild replaced an energy drink and a Venti Starbucks Coffee."
Clean & Simple Ingredients, Backed by Science
Designed to Maximize Your Productivity
2x More Caffeine Than a Cup of Coffee
Organic Caffeine from Green Tea provides clean, long-lasting energy
23x More L-Theanine Than a Cup of
Green Tea
L-Theanine for focus & productivity, without the jitters or crash
Natural Juices & Nothing Artificial
For a clean, smooth & natural taste without the junk
Other Ingredients: Purified Water, Pineapple Juice Concentrate, Organic Ginger Juice, Natural Flavors, Organic White Grape Juice Concentrate, Organic Lemon Juice Concentrate
Other Ingredients: Purified Water, Pineapple Juice Concentrate, Natural Flavors, Organic Blackberry Juice Concentrate, Organic Lemon Juice Concentrate
Other Ingredients: Purified Water, Pineapple Juice Concentrate, Natural Flavors, Organic Mango Juice Concentrate, Organic Lemon Juice Concentrate, Organic Peach Juice Concentrate
Key Nutrition Facts
100% Plant-Based Ingredients
Only 25 Calories
Low Sugar
No Preservatives
No Artificial Sweeteners
Instructions
We recommend taking one Proper Wild shot when needed to boost your energy, focus and productivity. One shot contains the Caffeine equivalent of two cups of coffee (180 mg). We don't recommend taking more than two shots in one day. Every Proper Wild shot has a room temperature shelf-life of 12 months. Shake well and refrigerate after opening.
How does Proper Wild Taste?
Proper Wild shots taste smooth and natural with a slight green tea aftertaste. We refuse to use preservatives or syrupy and artificial sweeteners found in other energy shots and drinks. Drink Proper Wild straight, which we like best when chilled, or mix it in with a smoothie or shake.
What Our Customers Are Saying
Customer Reviews
11/28/2020
Sara w.
United States
Better than coffee
I have been hooked to coffee since I could remember. I have built such a tolerance to coffee that it no longer helps to wake me up in the morning. I got these shots as a healthier option in the morning and to help me with my coffee habit. These shots are delicious and really do give you a long burst of energy! Def recommend !
11/27/2020
Robin
United States
Continual energy
This product helps my husband stay alert on his job. He says it lasts for hours—better than the other energy drinks. Plus, they are much healthier.
11/26/2020
Meg M.
United States
Great taste and energy!
I need these to help me get through the day. I'm a college student full time and I work fully time so I need all the help I can get to stay alert and awake, and these help do the job.
11/24/2020
Daniel R.
United States
The taste of "Clean Energy"
I gave these a go as I knew I had some long driving days coming up (helping a friend move) and didnt want to have to load up with the mainstream energy drinks or overload with coffee. The taste is a little bitter but compared to the alternatives this is so much taster. The fact it's made from natural ingredients, doesn't have any added sugars (there is still sugar in it but most likely from the fruits) and doesn't give you that jitters that I would get from being overloaded with coffee or other sugary energy drinks. It says don't take more than 2 on the label as a recommended daily intake but frankly you really just need the one as there isn't a big crash at the end due to the usual sugar high you would get from other energy sources. If there was a button that said "Would recommend to a friend", I would definitely be clicking that.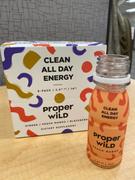 11/21/2020
Shorty
United States
Long-Lasting Energy
I wanted to try Proper Wild because it is reportedly clean, all day energy. The energy is long-lasting, I have reduced jitters, and just one every morning is all I need. I take it for a morning boost because I am not a morning person, and I drive all day for a living so it keeps me alert, and I have taken it for an extended day/late night. I definitely recommend!
See more
@properwild